Leslie Regier for Congress
No party. No partisanship.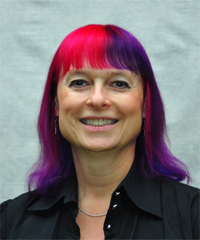 Correspondence may be sent to the following address, but please do not send any contributions at this time.

Regier For Congress
[campaign P.O. Box no longer active] Contribution notices are at the bottom of the page.
---
Information
About Leslie
Main Platform Points: Education and STEM - Space Exploration - Community
Additional Points: Polarization and my Third Option - Working Across the Aisle -
Compromise - Miscellaneous Commentary

Please continue to check back for updates.
---
News Feed
18 July 2016. The votes were certified on Tuesday the 16th. Congratulations to Pramila Jayapal and Brady Piñero Walkinshaw who will both move forward to the General Election in November.
6 August 2016. Currently in the returns I am far from being a frontrunner, but I think I have done pretty well, all things considered. I have no party affiliation, I'm new to this, I had no name recognition when I started, there is a nine candidate split, etc. Nevertheless, it has been worth it. I put a new voice out there and shared some different perspectives, and the votes that have come my way—as well as the voters' calls I've received—show that I have had a valuable message. Many thanks to all who have supported me in my efforts. I will continue to watch the returns come in and will do some soul-searching with regard to where and how I can make a positive difference. ~ Leslie
24 July 2016. A page for miscellaneous topics has been added and is linked above. Currently it contains commentary about representation and "the 99%."
23 July 2016. Four of the six uninvited candidates showed up at the controversial debate held 15 July at the Seattle Public Library. Leslie talked with the public and media before and afterward.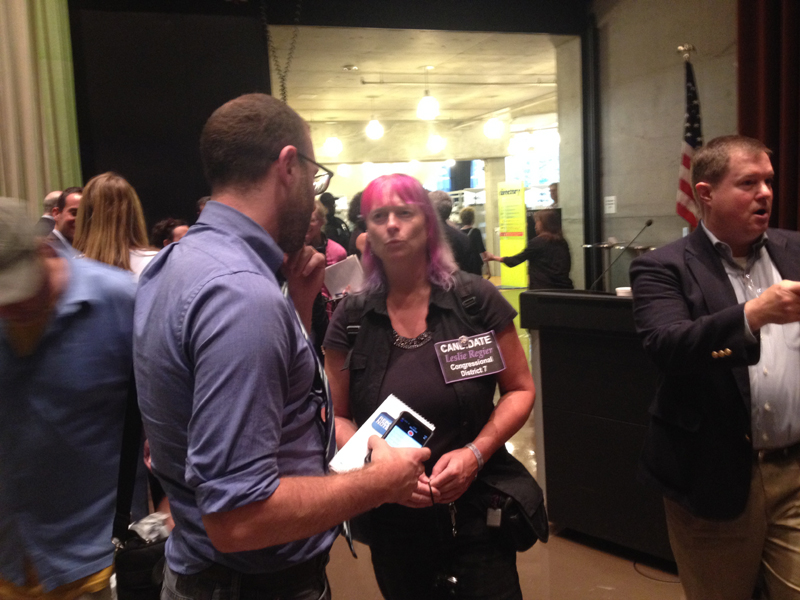 Photo by Bruce Bolton
Leslie at the KCTS/Crosscut candidate debate held 25 May at the University of Washington.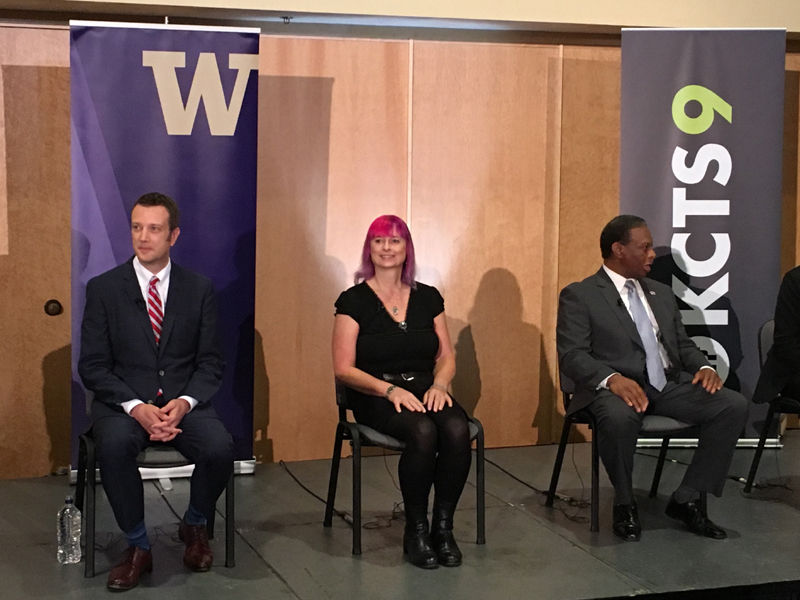 Photo by Hilja Welsh

17 July 2016. Write-ups regarding Polarization and Leslie's Third Option, working across the aisle, and compromise have been added. See the links above.

16 July 2016. This morning Leslie Regier joined the other candidates at the Shoreline City Council Chambers for a candidate forum sponsored by the League of Women Voters. This was the first event in which all nine candidates were present.

Leslie will be adding a write-up regarding the polarization we have seen in government and society. We must learn to work together, and Leslie has some ideas to achieve that. The write-up should be up by tomorrow.

12 July 2016. Last Saturday afternoon, 9 July, Leslie Regier joined six of the other candidates at the Eritrean Association of Greater Seattle for a candidate forum held by CIRCC (Coalition of Immigrants, Refugees, and Communities of Color). Leslie continued to share her independent message.

On Wednesday, 13 July, Leslie will attend the Greater Seattle Business Association's annual Prime Time Candidate Reception.

For those in the north end, this coming Saturday morning, 16 July, Leslie plans to attend a candidate forum to be held at the Shoreline City Council Chambers (17500 Midvale Ave N, Shoreline) from 10:30am - noon.



21 June 2016. Monday evening, 20 June, Leslie Regier took part in the Candidate Forum at Horizon House, co-sponsored by the Horizon House Residents' Council and the First Hill Unit of the League of Women Voters. The discussion was lively and Leslie delivered a good, independent message.



5 June 2016. The education and space exploration platform points now have their own pages to go with the one for community. See the links above.



1 June 2016. Candidate invitations are coming in, and Leslie Regier is currently planning to take part in the Horizon House candidate forum on 20 June; the Coalition of Immigrants, Refugees and Communities of Color (CIRCC) candidate forum on 9 July; and the GSBA's Prime Time Candidate Reception mixer on 13 July.



26 May 2016. On Wednesday evening Leslie Regier participated in a candidate debate sponsored by Crosscut and KCTS. The video may be streamed on the KCTS web site. 7th Congressional District Primary Debate. (Link updated 4 June to article with the full-length video.)



24 May 2016. Leslie Regier submitted her voters' pamphlet information and statement. The text is included here.

Elected Experience: None.

Other Professional Experience: AutoCAD drafter, small business owner, writer & publisher. Former drafting department supervisor, custom model builder, window shade maker, electronics assembler & QC inspector, park patrol officer, grocery bagger, pizza deliverer, and hardware store clerk.

Education: Master of Science in Engineering (Mechanical Engineering), University of Washington, 2015; Bachelor of Science in Industrial Technology, 1990, Humboldt State University, Arcata, California; Associate of Arts, 1984, College of the Redwoods, Eureka, California.

Community Service: Long time blood donor (six gallons), long time financial supporter of KNHC Radio - Seattle Public Schools, long time recycler and repurposer, past volunteer reserve deputy sheriff.

Statement: I have a Master of Science in Engineering from the University of Washington, and I am a critical thinker. As a member of the District 7 community since 1997 I have observed many changes and much growth in that time. We have a dynamic and diverse district. As U.S. Representative I will work with all members of the district, not just those who vote for me. I recognize the outlying neighborhoods and cities, as well as the core of Seattle. I am not beholden to any political party, and I treat everyone with a sense of equality.

I advocate support and encouragement for the STEM (Science, Technology, Engineering, and Mathematics) fields in education. We are falling behind, and without strength in these fields we stifle innovation. For all students, I advocate teaching critical thinking skills and teaching to understand, not simply to pass tests. We need to keep up in an increasingly complex world.

Humans are explorers. I advocate space exploration. We have several private ventures going into space, and this is wonderful. What has happened, however, to our national spirit of exploration that we saw with the Apollo Missions and the Space Shuttle? Our community has a lot of talent who can take on new missions, and we will benefit from the advances in materials and technology that can be used here on the ground.

Too many of us no longer know our neighbors. People are overwhelmed, trapped in survival mode, or isolated for other reasons. There is increasing division over minor differences. Why divide ourselves when we can join over our similarities? How does all this relate to crime, mental illness, and feelings of alienation? I advocate efforts to get to know each other again to improve the health of the community.





18 May 2016. On Tuesday Ms. Leslie Regier formally filed for candidacy with the Washington Secretary of State Elections Division. She does not claim affiliation with or preference for any party. Statements will be posted here soon.



20 April 2016. This committee was formally created to promote the election of Leslie Regier to the House of Representatives, Washington's District 7, in the 2016 election. Please stand by for further information as the campaign becomes active.






Notices:
•Contributions will be used in connection with federal elections and are subject to the limits and prohibitions of the Act (11 CFR 102.5).
•Federal law requires us to use our best efforts to collect and report the name, mailing address, occupation and name of employer of individuals whose contributions exceed $200 in a calendar year (11 CFR 104.3).

Site Content © 2018 by Regier for Congress