Leslie Regier for Congress
No party. No partisanship.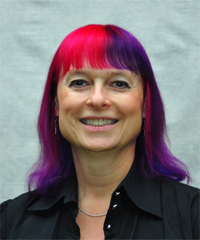 Correspondence may be sent to the following address, but please do not send any contributions at this time.

Regier For Congress
[campaign P.O. Box no longer active] Contribution notices are at the bottom of the page.
---
A little about me ...
I have been a member of our 7th Congressional District community since late 1997. For nearly all that time I have been an AutoCAD drafter, and most of that was as a Drafting Department Supervisor for a consulting firm. In 2015 after several years of hard study, mostly part-time while working, I earned my Master of Science in Engineering (Mechanical Engineering) from the University of Washington. In my time in the 7th District I have witnessed many changes, and I care about what happens both here and in our nation.
My background is broadly varied in both employment and life experience, allowing me to relate to everyone in the 7th District in some way or another. I have worked in many fields as shown in my Candidate Statement, and there are times I have been unemployed. I have a small publishing business that began as a freelance AutoCAD drafting business. Several interests and hobbies have me interacting with people of various backgrounds and concerns. I rent a small condominium and have plans to buy a home. I approach life with a balance of scientific logic and human understanding. I have traveled to other states and other countries which have given me a wider perspective on living.
As U.S. Representative I will work with anyone and everyone in the District, regardless of position or circumstance. I do not care about wealth or lack thereof. I advocate for the benefit of all. When it comes to representation, it does not matter to me whether or not you will have voted for me. I will not ignore those who do not vote. In fact, some cannot vote, such as convicted felons who have lost the right to vote, yet they still need representation. I will do that.
Not everyone one will agree or get along, but we can at least try to understand each others' perspectives and move into a better future together. That is among the things I promote.
Home


Notices:
•Contributions will be used in connection with federal elections and are subject to the limits and prohibitions of the Act (11 CFR 102.5).
•Federal law requires us to use our best efforts to collect and report the name, mailing address, occupation and name of employer of individuals whose contributions exceed $200 in a calendar year (11 CFR 104.3).

Site Content © 2018 by Regier for Congress